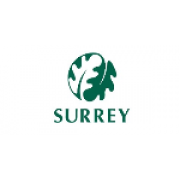 Senior Commissioning Officer - Commissioning Team
£39,438 per annum for 36 hours per week based at County Hall, Penrhyn Road, Kingston-upon-Thames, KT1 2DW.
From flexible working to job sharing (where possible) we are committed to providing a healthy work life balance. A laptop and mobile will be supplied if applicable to your role. You will benefit from 24 days annual leave, rising to 28 days after 2 years' service, a generous local government salary related pension, as well as the option to join our car lease scheme.
About the role
Surrey's Children Services have undergone significant changes in order to meet the needs of children and families in Surrey. The newly created Children's Commissioning Team has been established to radically transform Surrey's approach to commissioning services, ensuring all of Surrey's children and young people are at the heart of everything we do.
There are three teams with the Children's Commissioning:
Gateway to Resources - commissioning direct services to children and young people with SEND or looked after by Surrey.
Early Years, Family Resilience and Health - strategic commissioning services for young children and services to support families through Early Help and Health provision.
SEND, Education and Corporate Parenting - strategic commissioning of services for children and young people with Special Educational Needs or Disabilities or in the care of Surrey County Council.
This team has a responsibility to ensure sufficient, good quality provision to meet needs within an innovative and outcome based model, achieving excellence and value for money for Surrey Residents.
Examples of our work include:
Using data to ascertain need and plan for future sufficiency of services.
Market Engagement events with key providers across Surrey, ensuring provision is developed in the right areas for our residents.
Working in partnership with Health and Social Care to ensure we commission services to achieve the best outcomes for children.
Developing new innovative services such as the new school-ages Speech & Language Service.
Developing new and exciting post-16 support offers for young people.
Negotiating, monitoring and evaluating contractual arrangements to ensure value for money.
We are looking for ambitious, highly motivated, energetic individuals who are able to take the lead on exciting projects like those examples listed above. Commissioning projects within the team take a variety of different forms and candidates must be comfortable with working at pace, with strict deadlines, both independently and as part of an extended team, to drive forward the change required to improve the outcomes for our children and young people.
We would welcome your application if:
You have commissioning experience or project management experience (an advantage but is not essential).
You have knowledge or experience of working in SEND Education or Social Care.
Have excellent communication skills with the ability to influence and negotiate.
Can demonstrate the ability to work collaboratively with teams within the council and with external partners.
Have a passion for improving outcomes and services for children, young people and their families.
A keen understanding of value for money.
Contact details
For an informal discussion contact Carol Savedra by e-mail.
We look forward to receiving your application.
Additional information
The job advert closes at 23:59 on 12 December 2019.
Interviews to follow.