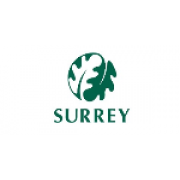 Scrutiny Officer
£34,688 per annum for 36 hours per week based at County Hall, Penrhyn Road, Kingston upon Thames, KT1 2DW.
Please note that Surrey County Council's headquarters, where this role is currently based, will be relocating back into Surrey in 2020 to support our Community Vision 2030 .
From flexible working to job sharing (where possible) we are committed to providing a healthy work life balance. A laptop and mobile will be supplied if applicable to your role. You will benefit from 24 days annual leave, rising to 28 days after 2 years' service, a generous local government salary related pension, as well as the option to join our car lease scheme. For more information about the wide variety of benefits you can take advantage of please visit MyBenefits for Surrey County Council staff.
Surrey County Council is committed to safeguarding and promoting the welfare of children, young people and vulnerable adults and expects all staff and volunteers to share this commitment. We want to be an inclusive and diverse employer of first choice reflecting the community we serve and particularly welcome applications from all under represented groups.
This post has been designated as a politically restricted post in accordance with the Local Government and Housing Act 1989.
About the role
Working at the heart of the Council's strategic decision-making processes in Democratic Services, you will provide support and guidance to Members in their local, strategic and civic roles. The role will involve day-to-day contact with county councillors and senior officers in organising committee business.
In this challenging and varied post, you will be managing and co-ordinating the work of one of the County Council's scrutiny committees. Tasks will include planning inquiries, carrying out research and collecting evidence, drafting reports and briefing papers, advising on policy options and providing procedural advice to Members and officers. In addition to this you will also be responsible for managing task groups linked to the Council's select committees.
You will possess excellent communication, negotiation and influencing skills with strong political awareness and the ability to analyse problems and issues. The ability to manage a diverse workload to deadlines, work to agreed procedures and translate complex information into clear, concise reports will be vital.
A broad understanding of the law and practice of meetings and an enthusiasm for government and politics is desirable. You will also need sound judgement, political sensitivity and a creative, innovative approach to the job.
For more information please find attached to the bottom of this advert a full job profile.
Additional information
Contact details
For an informal discussion contact Ross Pike on or Vicky Hibbert on . We look forward to receiving your application.
Additional information
The job advert closes at 23:59 on 12th January 2019.
Interviews date to be confirmed.