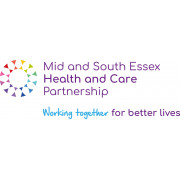 Director of People & Organisational Development
Director of People & OD
The Mid and South Essex Health and Care Partnership (the Partnership) brings together key health and care organisations across the area, including our newly merged acute hospital, three upper tier Local Authorities, three community/mental health providers, five CCGs working with over 150 GP practices, and a range of partner organisations.
We have a bold ambition to deliver improved outcomes for our 1.2m population. Having the right workforce in place across all sectors will be vital in achieving our ambitions, this includes local authorities, NHS, third sector provision, volunteers and carers.
As Director of People and Organisational Development you will provide a vital leadership role in mid and south Essex, and will make a clear and visible difference to the health and care workforce in our system – its size, its composition and the support that is given to attracting, retaining and supporting individuals to develop their careers.
You will be instrumental in making mid and south Essex a preferred destination for individuals in every field who are committed to shaping the system and organisation to which they belong.
You will be accountable for delivery of agreed workforce, education and organisational development priorities for the Partnership, including driving improvement and best practice through the local People Board to support the overall aims of Mid and South Essex People Strategy and its associated delivery plan.
You will bring the highest professional standards and system leadership in your way of working and be adept at networking and developing, nurturing and maintaining productive working relations.  You will have demonstrable ability in a system-wide role, delivering on challenging agendas and utilising an extensive range of strategies and techniques.
Upon appointment, you will be a full member of the Health & Care Partnership Board, representing the Partnership both regionally and nationally and you will work closely with the Senior Responsible Officers for Partnership activities, as well as Chief Executives, Human Resource Directors, Directors of Nursing, Directors of Social Services, Allied Health Professionals, community and voluntary sector organisations, and other professional groups across the system
This truly is a pivotal role in delivering the vision of the Partnership and the post-holder will work closely with the Independent Chair and Executive Lead to help move us towards Integrated Care System status.
For further information please contact, in the first instance, Jo Cripps, Health & Care Partnership Programme Director (jocripps@nhs.net)