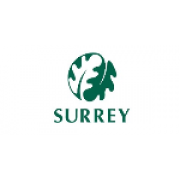 Director of Economic Development and Prosperity - Surrey
Description
Our Director- Economic Growth and Prosperity position offers a competitive salary. Currently based at County Hall, Penrhyn Road, Kingston Upon Thames, Surrey KT1 2DN , we will be relocating to Woking during 2020, however agile working is offered to meet the demands of this role.
From flexible working to job sharing (where possible) we are committed to providing a healthy work life balance. A laptop and mobile will be supplied if applicable to your role. You will benefit from 24 days annual leave, rising to 28 days after 2 years' service, a generous local government salary related pension, as well as the option to join our car lease scheme. For more information about the wide variety of benefits you can take advantage of please visit MyBenefits for Surrey County Council staff.
Surrey County Council is committed to safeguarding and promoting the welfare of children, young people and vulnerable adults and expects all staff and volunteers to share this commitment. We want to be an inclusive and diverse employer of first choice reflecting the community we serve and particularly welcome applications from all under represented groups.
About the role
About the role
As part of our Extended Leadership Team and reporting to Michael Coughlin (Executive Director for Transformation, Partnerships and Prosperity), this is a leadership role where you will direct and deliver the County's economic development and regeneration activities, strategy, commissioning, and partnerships. You will act as the Council's chief adviser on initiatives which will achieve our objectives and contribute to inclusive economic prosperity, employment and wealth generation across Surrey that benefits our communities.
You will deliver clear strategic direction, driving forward a range of initiatives and projects that will stimulate economic development, investment and regeneration across Surrey. This will be achieved by cultivating powerful working relationships at the most senior of levels across a wide range of organisations including councils, government, LEPs, health and the private sector. You will have the ability to represent, challenge and influence with authority to secure the best possible outcomes that help us deliver on our economic priorities.
We are looking for a stand out individual who can utilise and evidence a successful track record gained within a similar strategic role. You will be comfortable in translating your ideas and expertise into short, medium and long term strategic priorities that respond to and support our corporate objectives. With a curious nature you will understand the power and benefit of global, national and local insight to help inform decisions and how this intelligence led approach will help us to deliver positive local outcomes for our economy and people of Surrey.
About Us
Our Community Vision 2030 details our ambition, desire and commitment for Surrey to be a uniquely special place where everyone has a great start to life, people live healthy and fulfilling lives, are enabled to achieve their full potential and contribute to their community, and no one is left behind. This role will play a pivotal role in supporting us deliver this vision.
If you want to work alongside a highly capable and motivated leadership team in a challenging and complex environment then we would love to hear from you. For further information please refer to the full role profile attached at the bottom of this advert.
Additional information
Contact details
To find out more about this role please contact Michael Coughlin by e-mail.
We look forward to receiving your application.
Additional information
This advert closes at 23:59 on Wednesday 18th December 2019.
You will be notified of your application outcome W/C 23rd December 2019.
Technical interviews are planned for 6th January 20202.
Should you be successful in progressing from technical interview, final interviews are planned for Wednesday 15th January 2020.